Cadillac Electric and PHEV Research

Cadillac has entered the electric world with a flash and a spark. The upcoming 2023 Cadillac LYRIQ will mark the start of a new era for our electric future. This new era for Cadillac marks a journey into environmental friendliness, stability and innovation. The LYRIQ will be an electric vehicle that aims not just to follow a standard, but to set a new one entirely.
This page is dedicated to helping you learn more about the upcoming first-ever Cadillac EV model – the LYRIQ, the distinguishing factors of the vehicle, how to maintain and service your Cadillac, how and where to charge your Cadillac, you'll learn about the battery and warranty, and just how much you can qualify for on federal tax credit by simply switching to driving an electric Cadillac. Although the LYRIQ does not make it's debut until the first half of 2022, you can be "in-the-know" by taking a look at the research we've done for you.
Our team at Patrick Cadillac can answer any questions that you have about the Cadillac electric vehicle and help you determine if it will fit your needs and lifestyle. If you have any questions, please don't hesitate to call 847-230-8240 or simply contact us and a member of our Patrick Direct Sales Team will reach out to you.
Cadillac Electric Lineup
2023 Cadillac LYRIQ (coming first half of 2022)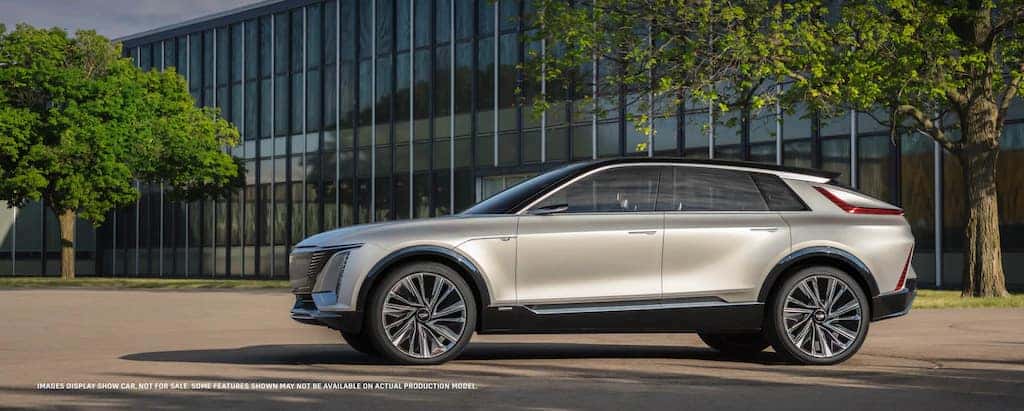 Starting MSRP: $58,795
Total Pure Electric Range: 300 miles
Power: 342 hp/325 lb. ft. torque
Electric Motor/Battery: E90 kWh battery
Time to Charge: LYRIQ will offer at-home Level 2 (AC) charge rates up to 19.2 kW, or up to 52 miles of range per charging hour – and DC fast charging for public charging rates of up to 190 kW, or up to 76 miles of range in just 10 minutes
WHAT'S THE DIFFERENCE BETWEEN A HYBRID AND A PLUG-IN HYBRID (PHEV)?
HYBRID
A vehicle is a hybrid if it's 100% gasoline-fueled but doesn't rely solely on its gasoline engine for propulsion (defined as the action of driving or pushing forward). Hybrids have electric motors that sometimes power the car in order to delay the gasoline engine and save fuel. At times, both systems work together for added power. Electric motors function as generators when you press the brake.
Hybrids get energy at the same time from a gasoline engine and an electric motor. The engine and motor work together to power the car. The engine also uses gasoline to help recharge the battery which powers the electric motor.
Hybrids use gasoline engines to keep batteries charged as you drive. There is no need to plug them in.
PLUG-IN HYBRID (PHEV)
PHEV's use a gasoline engine and an electric motor, but in different ways. A plug-in hybrid primarily uses its electric motor, which is powered by the battery. A plug-in hybrid won't use gas until the battery runs out of power. A plug-in hybrid uses its engine as a backup plan.
PHEV's can be plugged into a 120-volt household outlet or a 240-volt charging unit (or wall charger). A plug in-hybrid can be driven on pure electric power without burning any fuel.
A PHEV has a much larger battery and a means to recharge it using an external power source. A PHEV acts like an electric vehicle with the gasoline engine not being used when it's battery has to charge. The engine comes on when the battery runs down which allows the vehicle to continue as a regular gasoline hybrid. It also uses regenerative braking to save fuel.
Charging Your Cadillac EV: How and Where?
Greet the day with a Cadillac-estimated more than 300 miles of expected range on a full charge. The LYRIQ will offer at-home Level 2 (AC) charging rates of up to 19.2 kW and DC fast-charging for public charging capability with rates up to 190 kW, freeing you to revel in the moment—and to let go of range anxiety.
Using the DC fast-charge for public charging, you can receive up to 76 miles of range in about just 10 minutes, and up to 195 miles of range in about 30 minutes, ensuring that you don't have to wait around long for your Cadillac to charge.
Maintenance/Service of Your Electric Cadillac


Cadillac Electric vehicles will need to have their service done regularly, just like a vehicle that uses gasoline. Be sure to follow Cadillac's recommended service intervals. Keep in mind that detailed inspection and repairs may only be performed by an authorized Cadillac shop, like the Patrick Cadillac Service Department. Our team is certified in all things Cadillac due to constant training by GM, so you can be sure to trust us with your Cadillac EV car or SUV.
WARNING: Do not do any repairs on the vehicle yourself. Electrical cables and/or components that have come loose may only be corrected by an authorized Cadillac workshop. Schedule service today!
Cadillac EV Future Battery Information


Cadillac will use a structural element of the body chassis system, Ultium. Ultium enables a near 50/50 weight distribution of the vehicle and a lower center of gravity, which together results in a vehicle that's sporty, responsive and allows for spirited driving.
FEDERAL TAX CREDIT
State incentive programs for Electric vehicles vary in their scope and applicability. While tax incentives are most frequently mentioned, rebates, HOV access, toll reduction and sales tax exemptions are also offered. Please consult your knowledgeable financial planner or tax specialist to determine how the state and federal incentive may apply to you.
| Cadillac Model | Federal Tax Credit |
| --- | --- |
| 2023 Cadillac LYRIQ | up to $7,500 |
To learn more about the Federal Tax Credits available, please visit: fueleconomy.gov
IEPA EV Rebate
Starting July 1, 2022, customers who purchase fully electric vehicles will be able to apply to the Illinois Environmental Protection Agency (IEPA) for a $4,000 rebate ($1,500 for electric motorcycles). Only one rebate will be issued to a purchaser in any 10-year period. Click here to learn more.
Note: This is not a dealer or manufacturer-supported rebate program
Visit Patrick Cadillac near Des Plaines and South Barrington to learn more about the upcoming 2023 Cadillac LYRIQ EV model, or simply call us to learn more today!