Auto Parts and Accessories Payment Plan at Patrick Cadillac
We've done it again!
Whether you're wanting to order accessories in order to upgrade or enhance your Cadillac, you want to order parts for a DIY project or you just simply want to purchase cargo nets, roof-mounted bicycle carriers or a brand new license plate frame, Patrick Cadillac is making it 100% easier for you to purchase genuine Cadillac parts, accessories and tires. With our Flexible Payment Plans, there's no reason why you shouldn't be able to purchase the parts and accessories you need. With our convenient options, you can purchase now and pay later.
Deferred Interest for 30 days available when ordering Cadillac Parts or Accessories*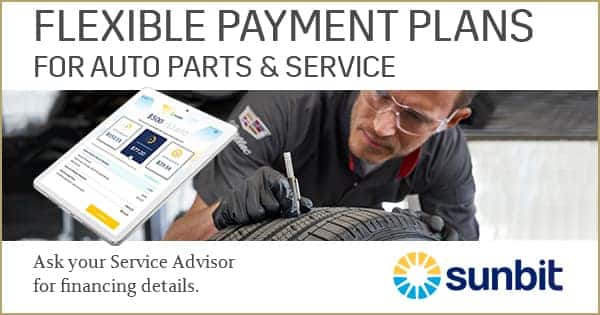 Stress free to apply!
Apply online or at the dealership
90% of people are approved
30-second application
No hidden costs or fees
Doesn't impact your credit to apply
No paperwork
Simple interest with no pre-payment penalties
What you'll need:
Your email address
State-issued ID or driver's license
Bank-issued debit card
Must also be 18 years of age (or higher, as required by state law)
Have a physical street address or APO/AFO address
Taking care of you every day, that's the Patrick Promise!
Getting Started:
Is there a credit check?
When applying, we perform a soft credit check, which helps us determine if you are eligible. A soft credit check does not impact your credit score. Your credit score may be affected when accepting a loan to complete a purchase or opening an account.
Do I have to pay anything up front?
Yes, you are required to make a down payment when you are finalizing your purchase. This down payment goes toward your total purchase amount. If you apply and are pre-approved, you'll be able to see the exact down payment amount for your purchase.
To learn more, simply complete the pre-qualifying process through Sunbit, submit an inquiry, talk to a Patrick Cadillac Service Advisor or call us at 847-230-8241 for more details.
*The deferred interest option allows approved customers at participating locations only to avoid paying interest if they prepay the amount financed in full within 1 month of the date of agreement. If customers do not prepay the amount financed in full by that time, then they will be responsible for paying interest as it accrues. Must be 18 + years of age. Financing is subject to approval, based on creditworthiness, state of residence, your prior history with the products offered using Sunbit technology.
If you pre-qualify, you will be able to see your APR, monthly payments, and total finance charges. A completed pre-qualification is valid for 14 days. To finance products, parts or services at a merchant location before the pre-qualification expires, you will need to present your state-issued ID or driver's license, make the required down payment with a bank-issued debit card, and choose a payment method for recurring payments. Any terms presented during the pre-qualification are subject to a continuing ability to meet the criteria used for the pre-qualification.